Do you like League of Legends, casting, and putting on a good show? The NLC is looking for talented community broadcast partners for the Aurora Open. Here is how you can send in your application. We are searching for three broadcast partners fom the community who are ready to let their light shine and host the Group Stage of the NLC Aurora Open 2022!

The Aurora Open is the ProAm tournament of the NLC, meaning teams from Division 1, 2 and 3, as well as from Open Qualifiers will meet in the same competition. Just like the fact that anyone has the chance to claim the Aurora Open trophy, the event is also giving the possibility to community creators to show off their broadcasting skills.

This means that everyone is invited to send their application to become a community broadcast partner. Once selected, you'll be hosting the group stage matches of the Aurora Open on one of the four official channels on four days.

Broadcast dates for you to host:

There will be four broadcast days, each featuring six best-of-one in a double-round-robin format. On each day, the first match will start at 17:00 CEST and the final match will start at 22:00 CEST.




5th (We) October

6th (Th) October

11th (Tu) October

12th (We) October

Send your application and let the games begin!




The journey is easy: Just send your application to info@nlc.gg, including all the information listed below. If you have any questions, feel free to also reach out via this email address.



Deadline to submit your application is Friday 30th September 12:00 CEST. Partners who get chosen to broadcast the NLC will be informed by the end of Friday 30th.


What to send with your application:


A link to your Twitch channel

A list of casters who you would like for the broadcasts + a link to their Twitter profile

Main POC / Producer POC (Real name + Discord ID)

Producer name (if not main POC)

Previous broadcast experience you have/the producer has and an example link

Y/N: Do you have the ability to stream on a delay of 3 minutes?

Special conditions:


If an organisation is applying which is competing in the Aurora Open themselves, they will not be allowed to broadcast their own group (meaning their own matches, as well as other matches from the group). This is for competitive integrity reasons as streams will have to be streamed on a delay of 3 minutes.

Broadcast partners will have to use scenes that will be provided to them by the NLC for the official group stage matches.

Aurora Open groups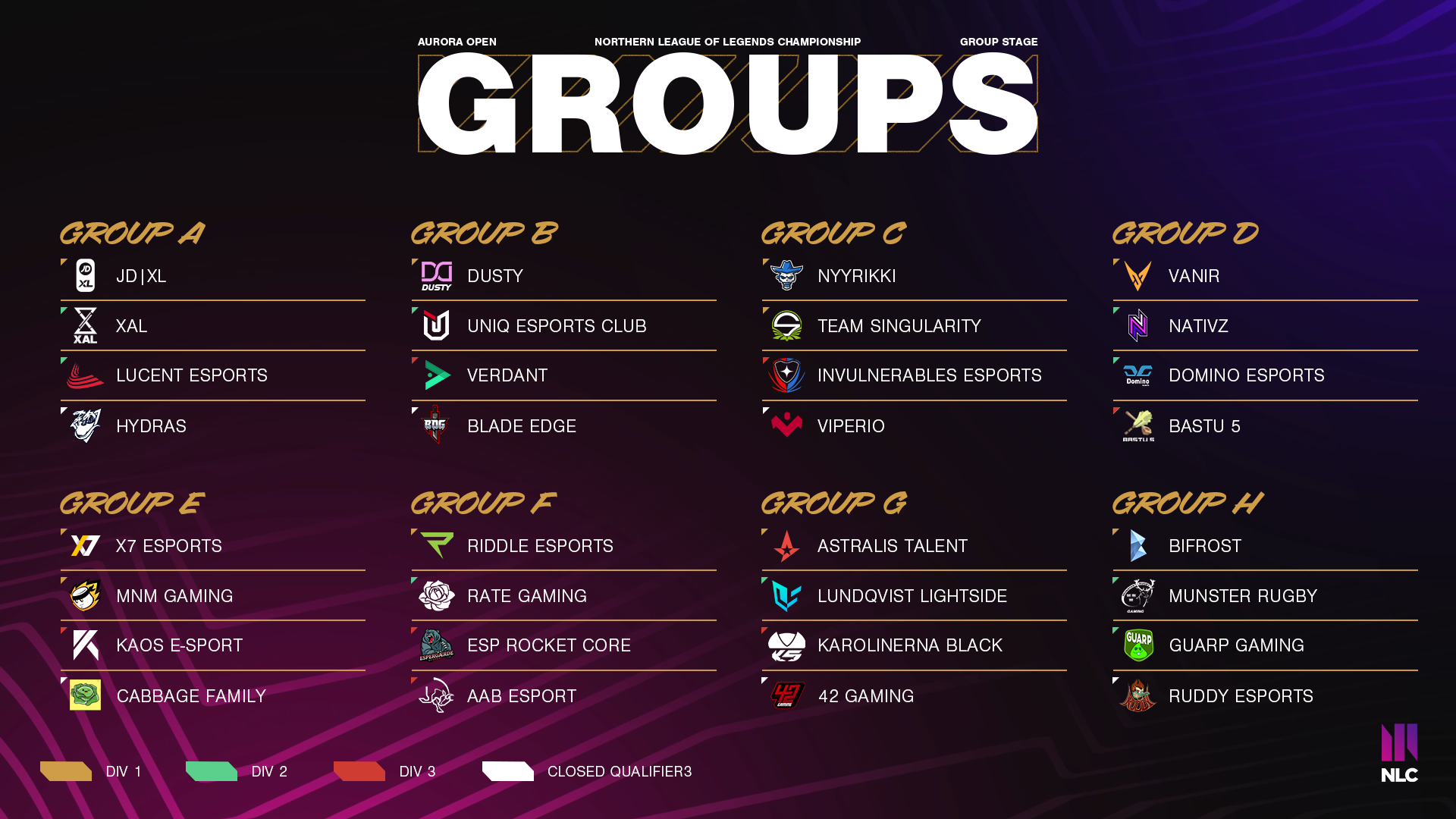 Always stay up to date with the NLC


If you don't want to miss any of the action or information regarding the NLC, you can follow our social channels listed below. And if you still have any questions or remarks, feel free to reach out to our support team or head over to our FAQ section.